Coping with mental health could be defining factor for India's cricketers in the UAE
NEW DELHI: The bubble life in Indian cricket started in August 2020 when players left for the IPL in the UAE. It was a time when cricket needed to get going at all cost. 'The new normal' became the catch word, mostly used casually without really considering the implications it could have on mental health.
When the Indian cricketers reached UAE in September this year to complete the second leg of IPL 2021, the focus immediately shifted to the form of the players picked for the T20 World Cup.
Skills, selections and fitness became the main points. However, the decisive factor in this T20 World Cup could be mental health. Never before has world cricket talked about mental health as it has in the last 15 months. Ben Stokes deciding to skip the mega event will forever remain a reference point.
This is an issue still spoken about in hushed tones within the system. Australia and England, the two teams after India to have played most cricket in this period, have offered mental health assistance and given liberty to its players to pick and choose tours.
England's three-month tour of Sri Lanka and India earlier in the year is a case in point where they flew in players for different parts of tours. No player has been made to endure a bubble through a season.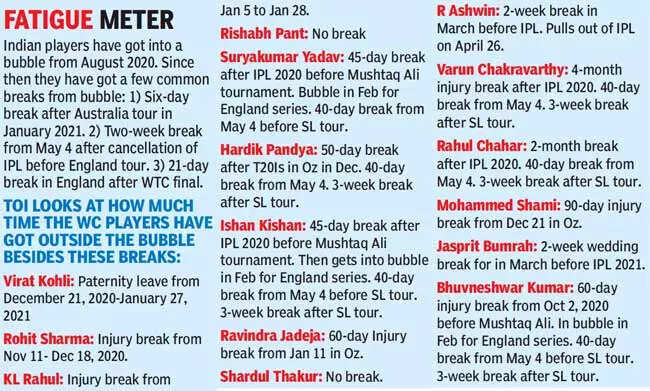 This is in sharp contrast to what the Indian players have gone through. There has been no instance where a player has opted to skip a series or a tour. Only Virat Kohli had come back from Australia on paternity leave last year. Unlike the overseas players, Indian cricketers don't have the luxury to skip the IPL. In effect, there's no team in the World Cup with as many players enduring the rigours of a bio-bubble.
For example, Rishabh Pant had spent two days with his family before the IPL was stopped in May this year. He got seven days and then joined the bubble to leave for England. The itinerary for the next one doesn't offer any breathing space either.
ICC has arranged 24-hour psychological assistance during the T20 World Cup but the BCCI is yet to make an official move on the mental health front. A Team India source claimed: "Thank god the players have access to open pools in UAE. It wasn't there even in Australia. They have access to certain golf courses besides the gaming room. Only close family has been allowed inside the bubble."
Former India wicketkeeper Deep Dasgupta, caged in a bubble on broadcast duties, said: "It's like a pressure cooker without safety valves. It's even more difficult when the spotlight is on you and you are playing in a high-pressure tournament. Players are running out of things they could do in bubbles."